Coffee
Bold Ambition (Dark)
Inspiration Overflow (Med)
Decaf Devotion
12 oz $1.50 | 16 oz $2.00
60+ Special Small $1
Republic of Tea (Fair Trade)
Available hot or iced. See display for flavors.
12 oz $2.25 | 16 oz $2.75
Branch Out - Upgrade
Add flavor to your favorite drink! (SF available!) $0.50
Dairy Free: Almond | Coconut | Soy Milk $0.75
Espresso Shot $0.75
Espresso Drinks 12oz | 16oz
Americano – $2.25 | $2.75
Cappuccino | Latte  – $3.00 | $3.75
Mocha – $4.00 | $4.50
1lb Ability Beans – $12.00
Cold Brew – $3.00 | 16 oz  $4.00
Nitro– $4.50 | $5.50
Frappe (espresso, flavor, & whipped cream) $4.00
Mocha Tundra (espresso, mocha, & whipped cream) $4.00
Other Favorites 12oz | 16oz
Chai Latte or Hot Chocolate – $2.75 | $3.50
Steamer (milk + flavor) – $2.25 | $2.75
Lemonade – $1.50 | $2.00
Apple Cider | CranApple | Chaider (Apple Cider & Chai)  – $2.75 | $3.50
Smoothies: Chai | Chunky Monkey | Strawberry Banana $4.50
Green Smoothie (limited supplies) $5.25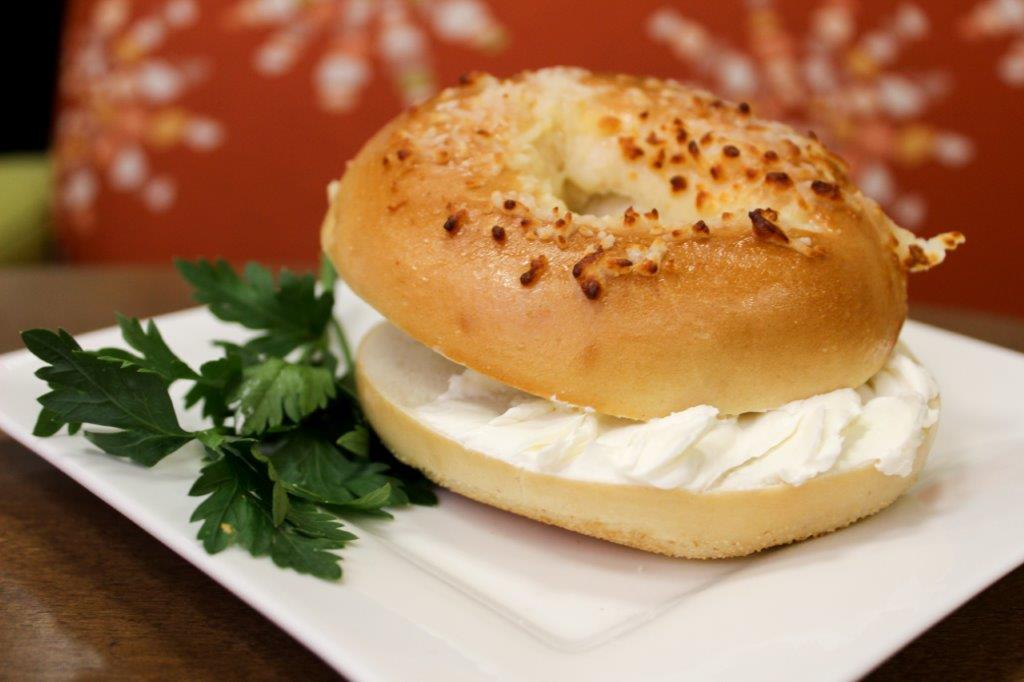 Bakery of the Moment
$1.00 – $4.00
Cookie | Muffin | Scone | Bar | Brownie | Cinnamon Roll | Danish Peanut Square (gf – Cheese Cake Heaven)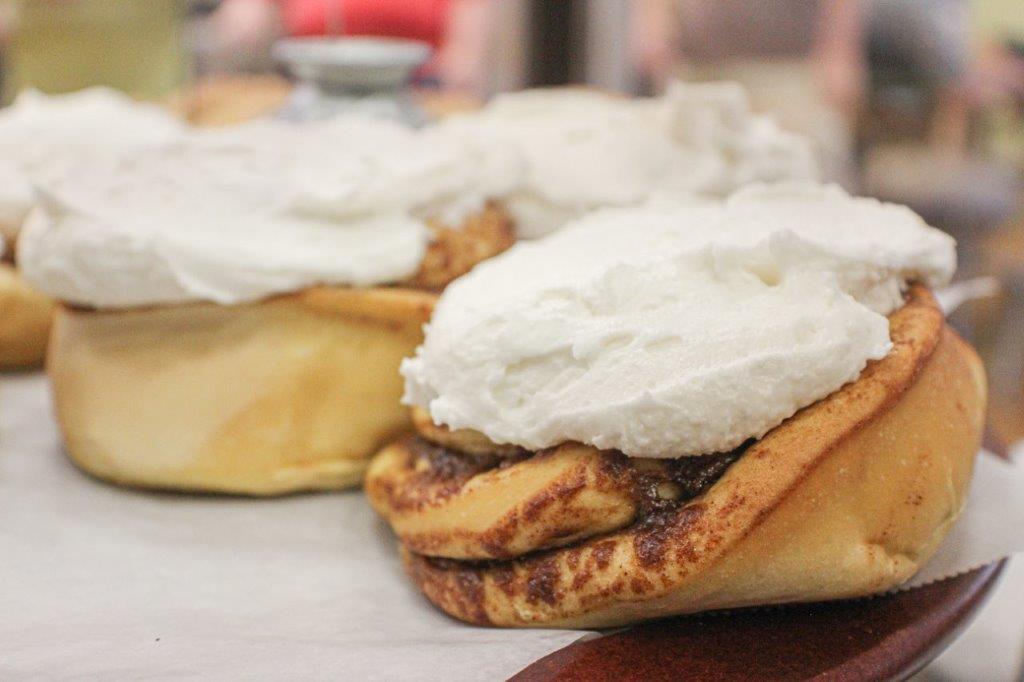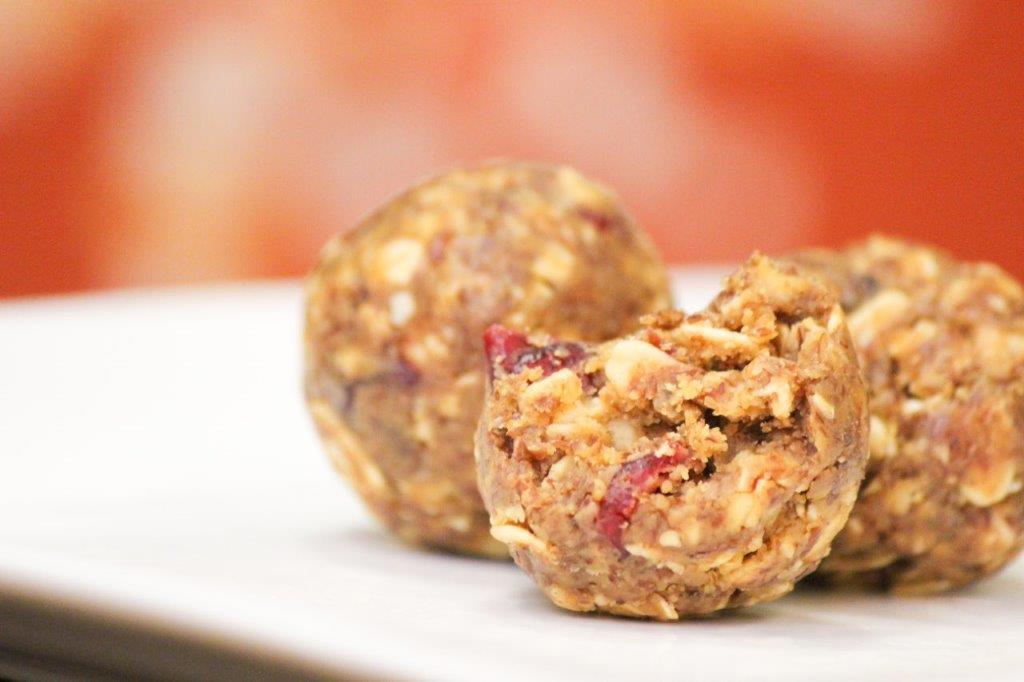 Quiche of the Day (baked fresh)
Breakfast
(served until 11am)
Breakfast Sandwich
(Bagel, English Muffin, or Ciabatta)
Your choice of meat and cheese. Veggies +.20 each
$5.00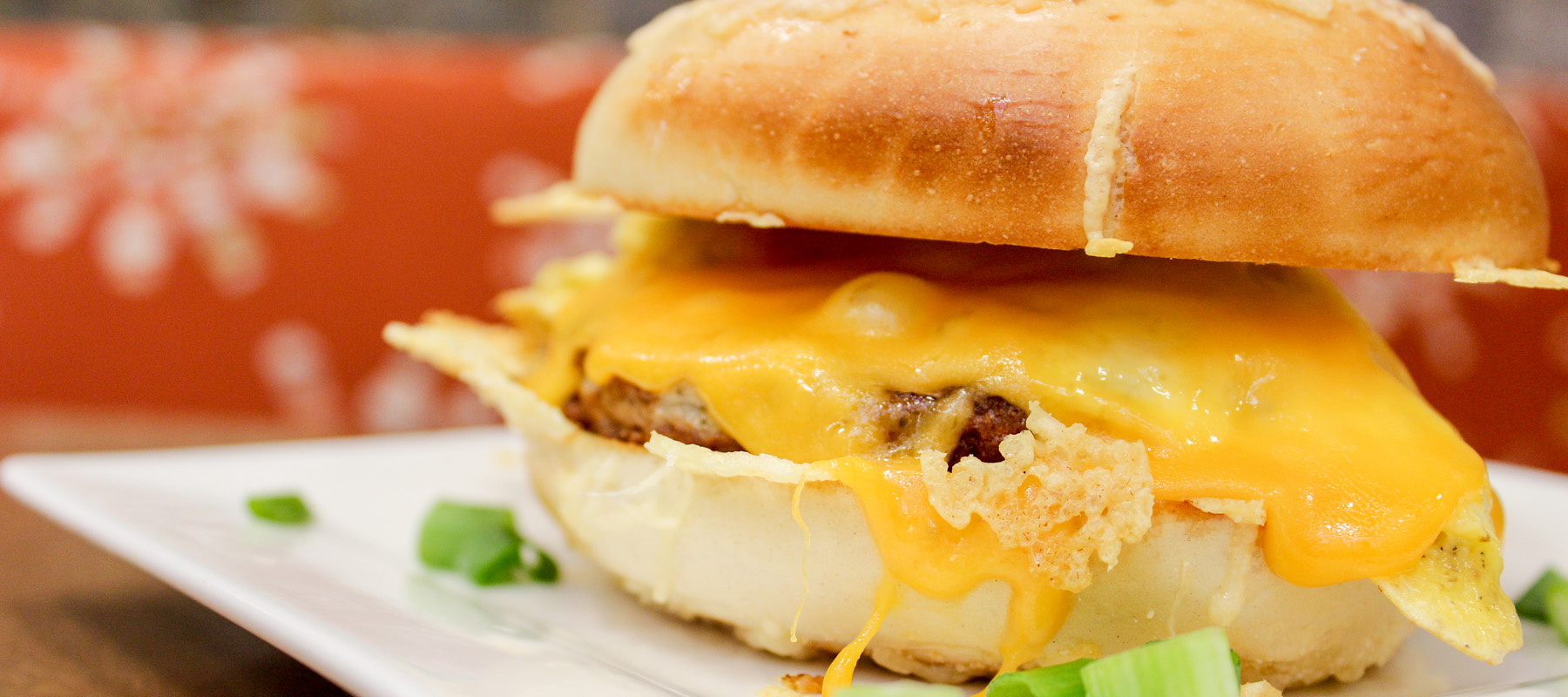 Breakfast Pizza
Flatbread with cream cheese and 3-cheese blend.
Your choice of meat and veggies. (GF tortilla +1.00) 
$5.50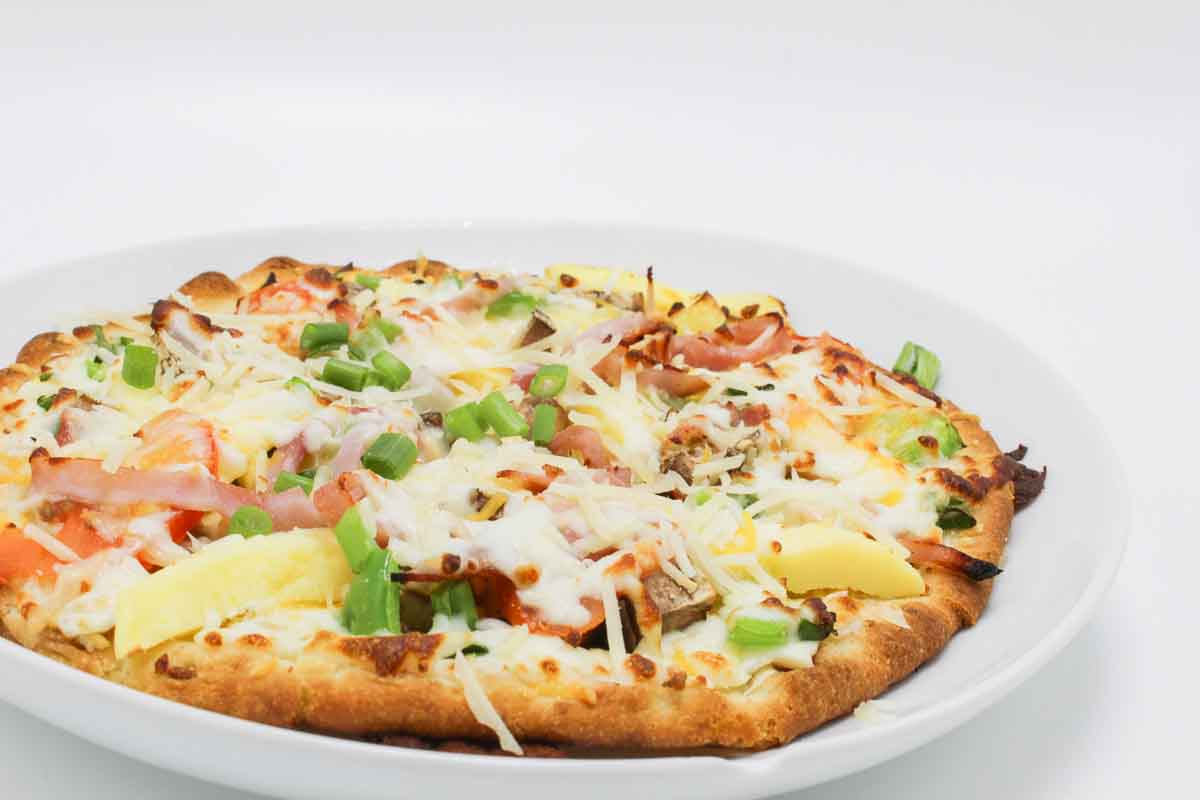 Two-Egg Scrambler
Your choice of meat and cheese. Served with homemade toast.
Veggies +.20 each
$5.00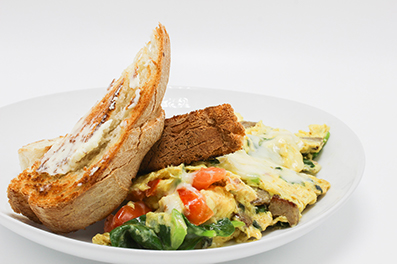 Soup & Pasta Salad of the Day
(While supplies last. Bowls served with bread.)
Cup  $2.50  |  Bowl  $4.00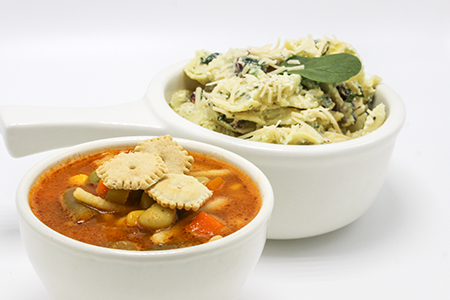 Chef Salad
Smoked ham, turkey, tomato, cucumbers, green pepper, green onion, cheese, and croutons. Served with bread.
$6.50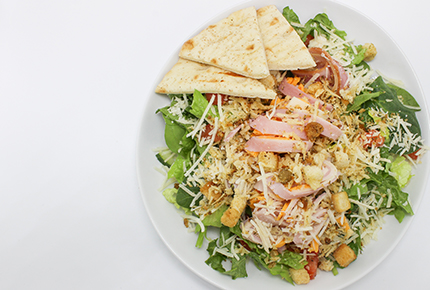 House-made Salad Dressings:
Parmesan Peppercorn, Roasted Red Pepper French, Italian Herb Vinaigrette, Honey-Dijon Balsamic
Greek Salad
Chicken, romaine, olive relish (olives, roasted red peppers, tomato), parmesan cheese, croutons.
$6.50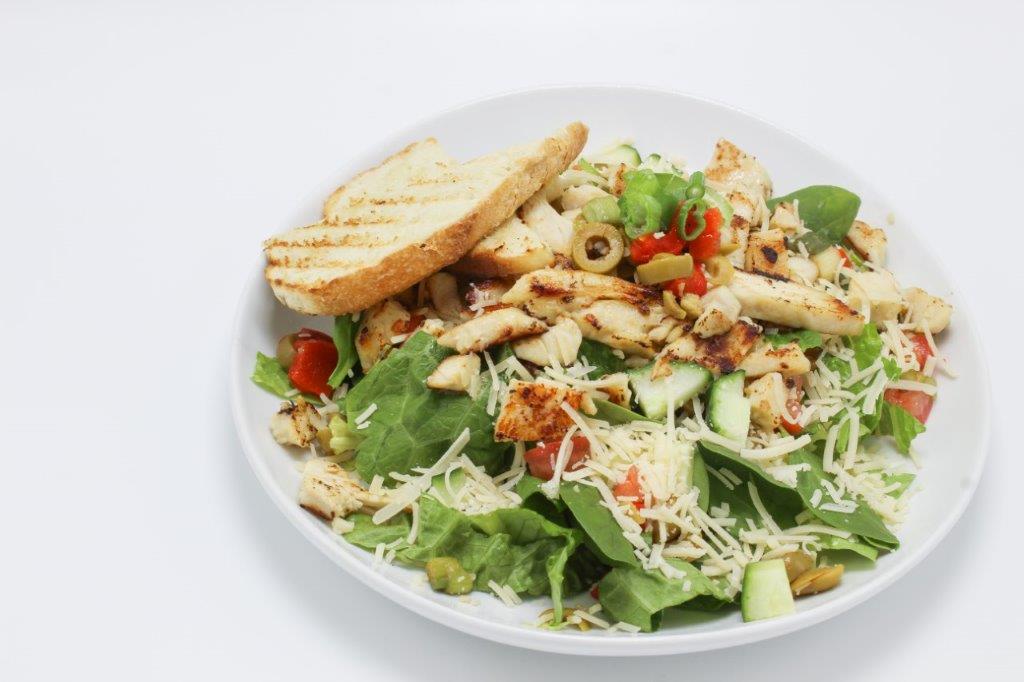 Garden Salad
Loaded with seasonal veggies, almonds, craisins, shredded cheese,
and croutons. Served with bread. (Add Chicken or Hummus +$2).
$5.00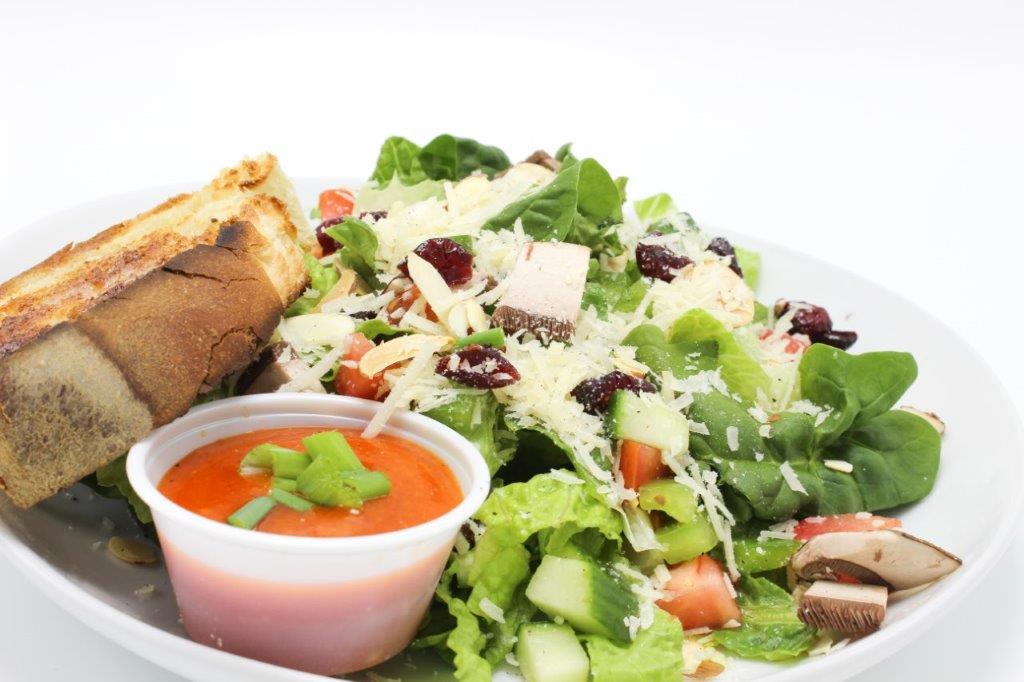 Choose your base:
Your choice of Wrap or Panini on Ciabatta (GF Tortilla +1)
Served with side of GF tortilla chips and pickle.
Baby Bleu
Grilled portabella mushroom cap, green onion, parmesan & bleu cheese, cream cheese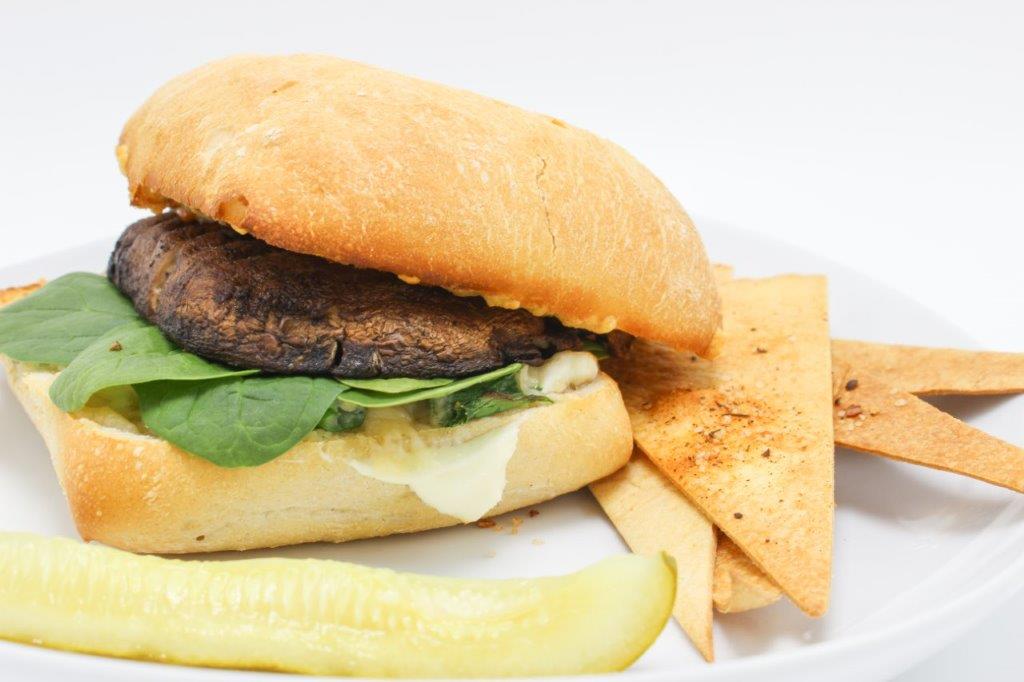 Big Easy Muffaletta
Ham, turkey, salami, mozzarella, olive salsa, parmesan, cream cheese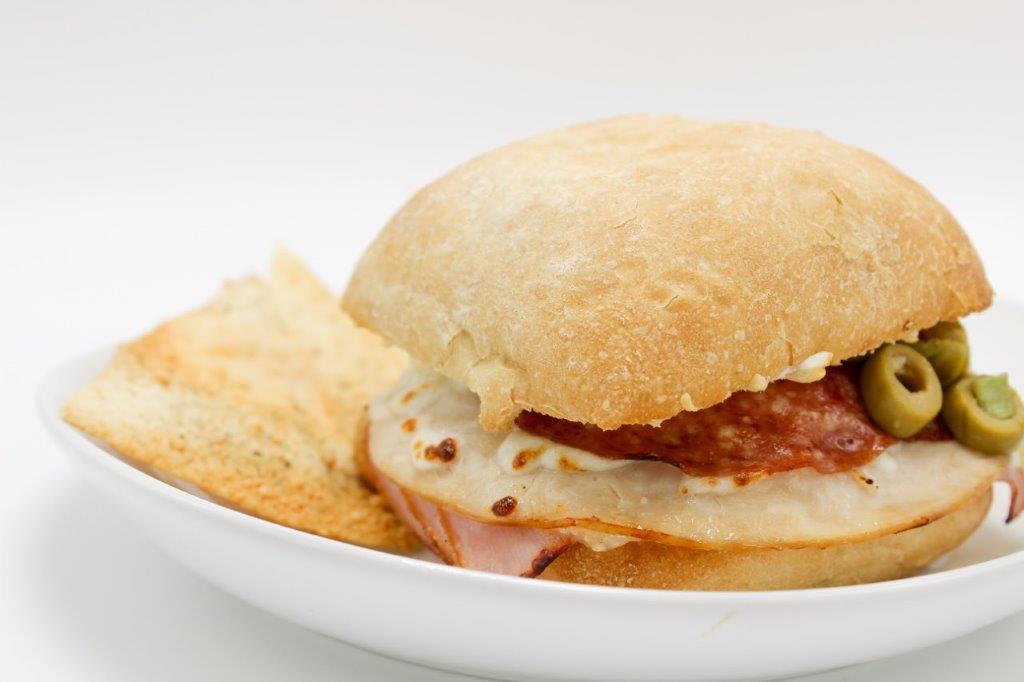 Black Bean Burger
Black bean burger, tomato, spinach, green onion, cheddar cheese, cream cheese, salsa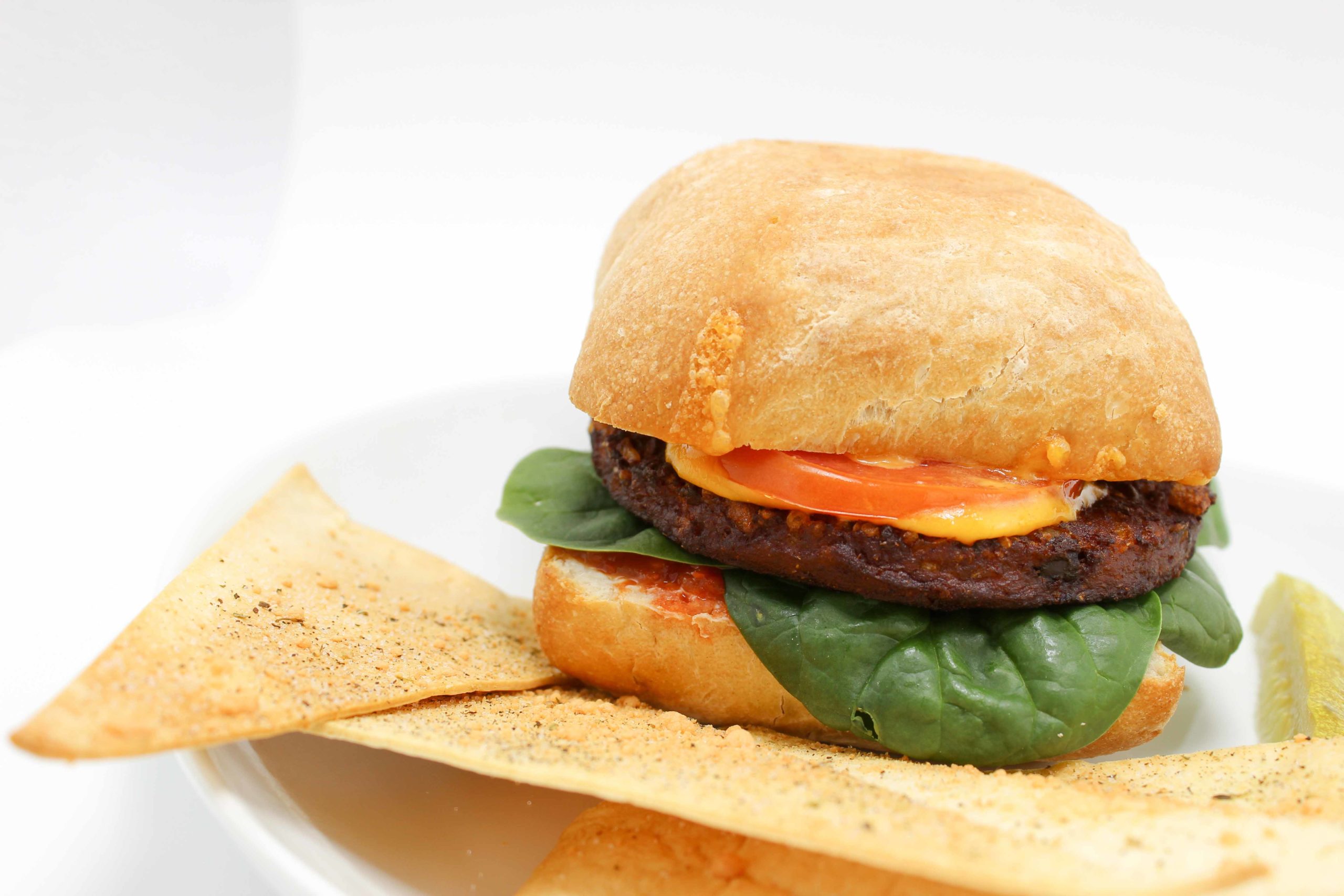 Chicken Caesar
Sautéed chicken, lettuce, tomato, bell pepper, croutons, parmesan, cream cheese, peppercorn dressing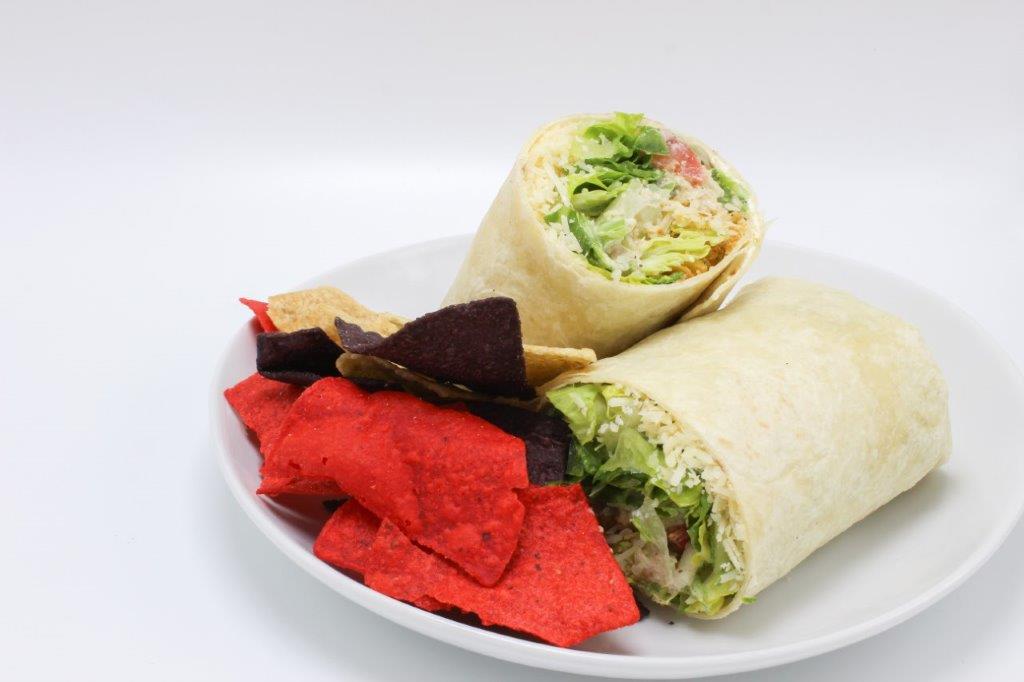 Hamilton
Ham, swiss, cucumber, roasted tomatoes, green onion,
lettuce, dijon mustard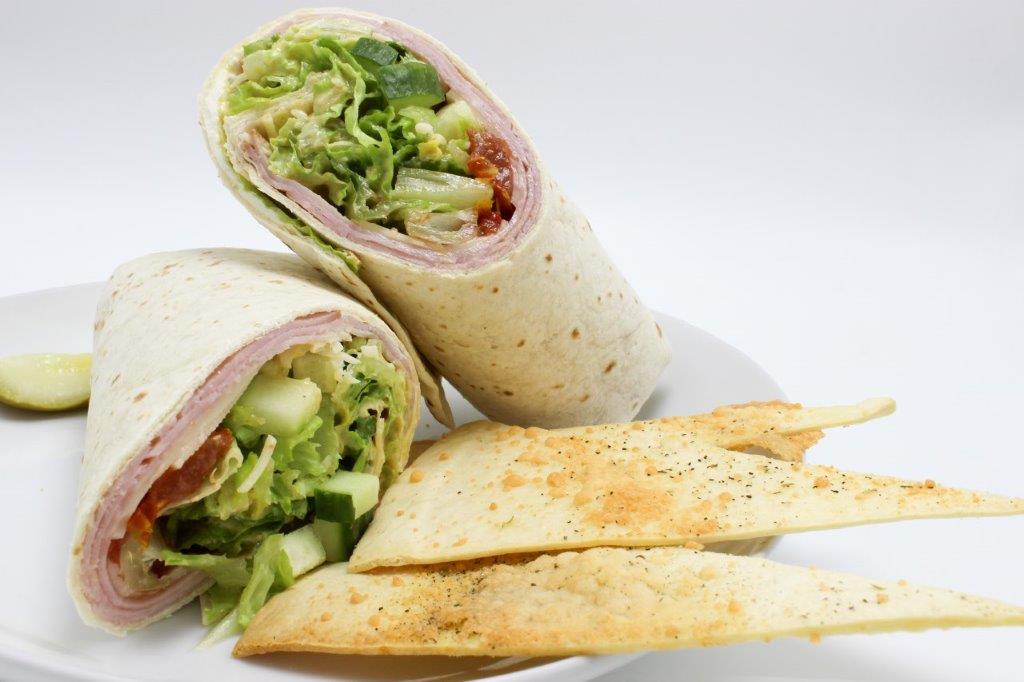 Henrietta
Chicken salad (mayo, dijon, craisins, basil, and green onions), lettuce, shredded parmesan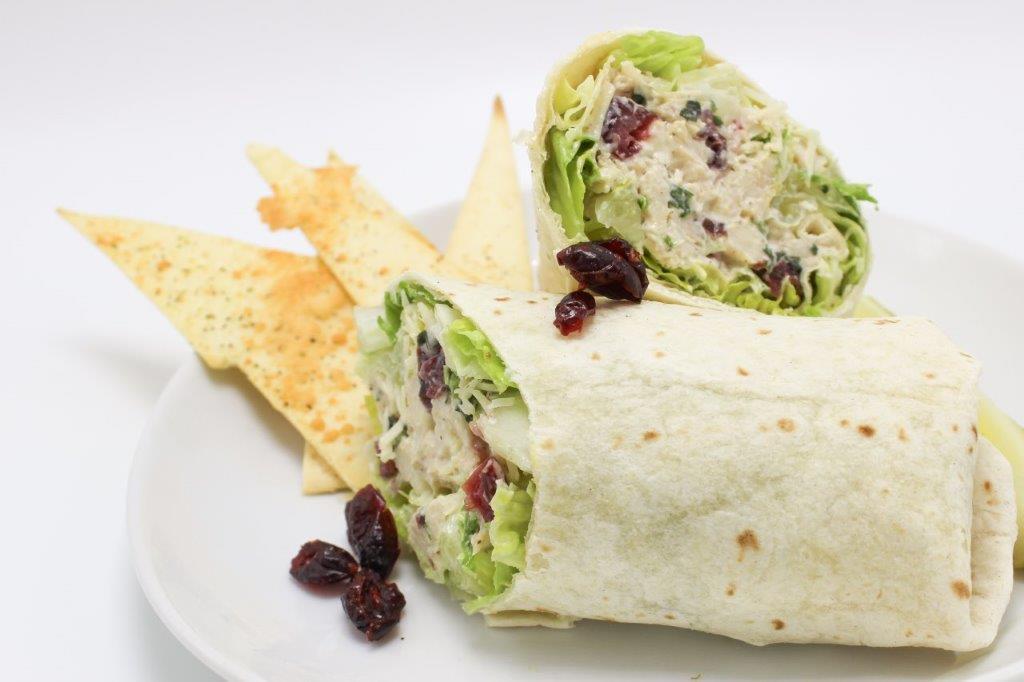 Italian
Salami, smoked turkey, roasted tomato, bell pepper, mozzarella cheese, parmesan cheese, cream cheese, herb vinaigrette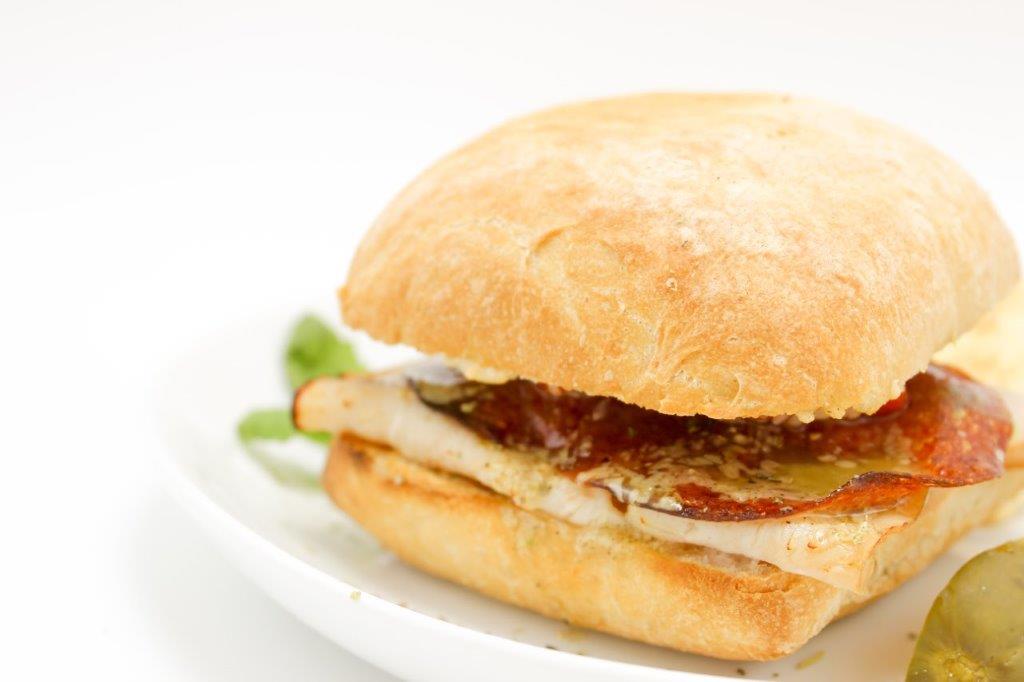 Pesto Chicken
With bell peppers, roasted tomato, parmesan, cream cheese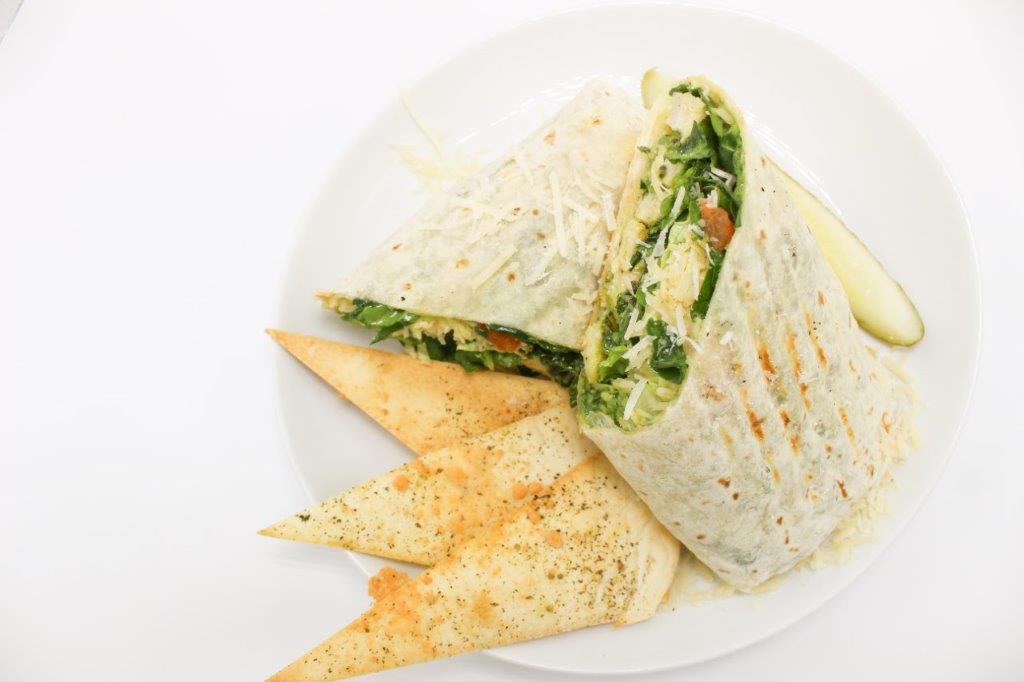 Smoked Turkey
Smoked turkey, cucumbers, cheddar, lettuce, tomato, cream cheese, peppercorn dressing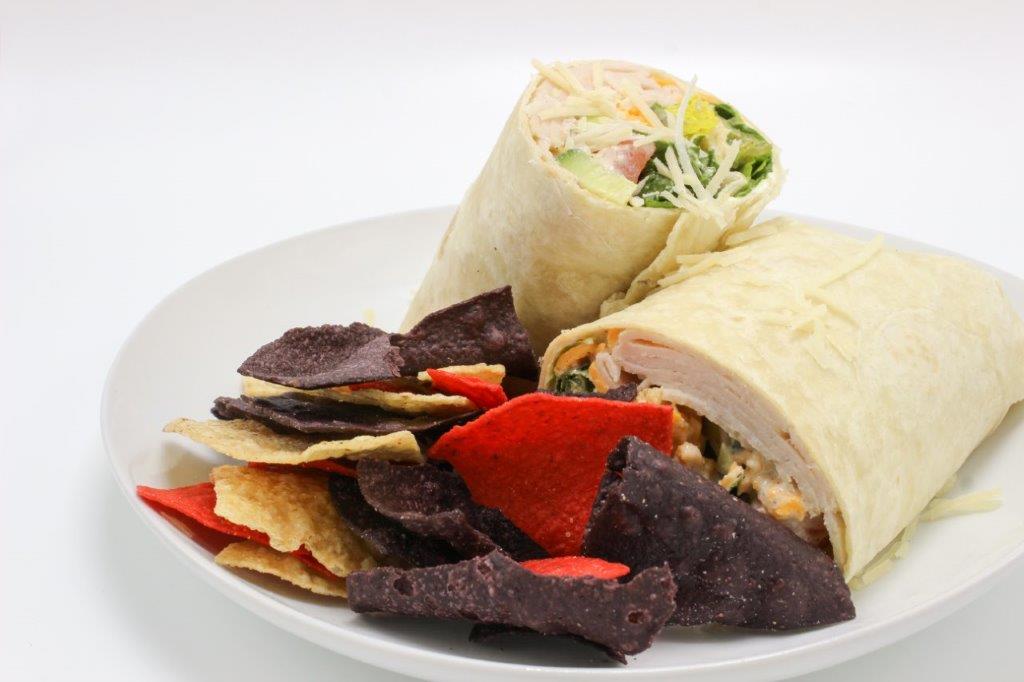 Veggie Hummus
(wrap or salad only)
Housemade hummus, spinach, cucumbers, roasted tomato, parmesan, toasted almonds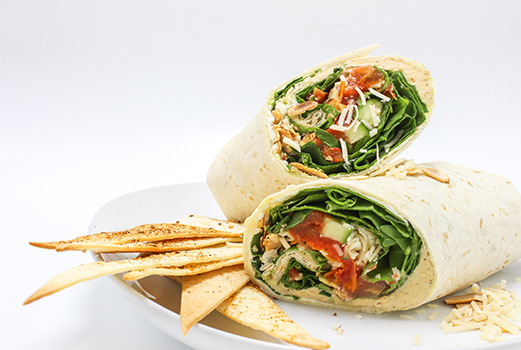 BBQ Chicken Flatbread
BBQ sauce, chicken, green onion, charred corn and poblano peppers, jack cheese blend
$6.50