Grounded Cafe is open for pick-up and delivery.
Did you know?!
We now also have OUTDOOR SEATING. When the weather is nice, stop down and let us serve you!
Order and pay online. When you arrive, call us, or buzz the door and we will bring your food out to you.
Delivery through EatStreet.
Stay up-to-date.
Grounded Cafe is a non-profit program of ADRC. The health and safety of our customers, volunteers, and staff is of utmost concern. To stay up-to-date with details related to how we are keeping everyone safe during this pandemic, visit ADRC's website: adrcofbrowncounty.org
What makes Grounded unique?
Grounded Story
Grounded Café was built on the belief that all people have value. That within everyone are possibilities given the right opportunities to succeed. Partnering with Curative Connections and local school districts Grounded was born to break down stereotypes and ageism. To shine a light on the strengths and "abilities" of seniors and persons with disabilities. Build pride and dignity by providing opportunities to uncover and develop abilities.
Grounded Café is about changing the way people see people. We want our guests to feel like they belong to something big! Where people come together, share a meal and a story or two each of them changed forever.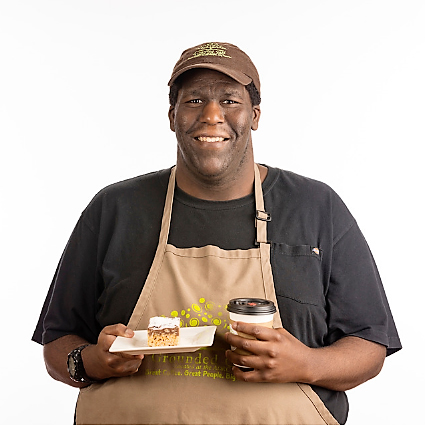 One cup at a time
Grounded Café focuses on abilities through a job skills training program for persons with disabilities. The persons serving you are either older adult mentors or adults with a disability gaining job skills.
Work is a place to belong, socialize, have purpose, and feel valued. At Grounded Café trainees are given the opportunity to work in every part of the café. To learn every task building confidence and discovering their strengths empowering them to experience the pride and dignity of participating in the community. It's been a resounding success more than half of the trainees finding jobs in the community.
Your purchases make this possible
Can one cup of coffee make a difference – You bet!