Grounded Cafe Response to Coronavirus Emergency
The health and safety of our customers, volunteers, and staff is of utmost concern.
We are working with Brown County Public Health and following CDC guidelines.  In response to this current emergency, 
Grounded Cafe is open for pick-up or delivery only.
Order and pay online. When you arrive, buzz either door and we will bring your food out to you.
Delivery through EatStreet.
We hear you.
Dear Partners, Customers, and Caregivers of the Aging and Disability Resource Center
The events of this past week have been beyond comprehension. We have seen the terrible injustice, we have seen the terrible discrimination, we have seen the violence and unrest around the country. As an agency who "puts people first," we struggle to understand why so little progress has been made. How is it that all the statistics collected through all our community programs indicate that so many people of diverse backgrounds have need, and yet they are the least served? How is it that people coming together to share a common message for change, become the target of the hate? How is it that our differences create greater divides? How is it that when we say we are "all in this together"-we don't really mean "all"?
This morning as I approached the ADRC building I was greeted by barricades. Barricades meant to protect the protesters as much as the buildings around them. They remind us to hear the message of oppression and inequality. We are not looking out and asking why no one has fixed this. We are not looking out and asking how people can feel this way. We are not looking out and asking who is going to create the change. We are looking out, but also in. We are evaluating what we stand for, what our vision and values mean, and how we can be part of the solution. What can we do that will change our path as a community? How do we listen, really try to understand all sides of the anger, and respond in a way that brings people together?
…Read the full article by clicking here (redirect to ADRCs blog post).
Sincerely,
Devon Christianson,
Director of Aging & Disability Resource Center
Grounded Cafe is a non-profit program of ADRC.
What makes Grounded unique?
Grounded Story
Grounded Café was built on the belief that all people have value. That within everyone are possibilities given the right opportunities to succeed. Partnering with Curative Connections and local school districts Grounded was born to break down stereotypes and ageism. To shine a light on the strengths and "abilities" of seniors and persons with disabilities. Build pride and dignity by providing opportunities to uncover and develop abilities.
Grounded Café is about changing the way people see people. We want our guests to feel like they belong to something big! Where people come together, share a meal and a story or two each of them changed forever.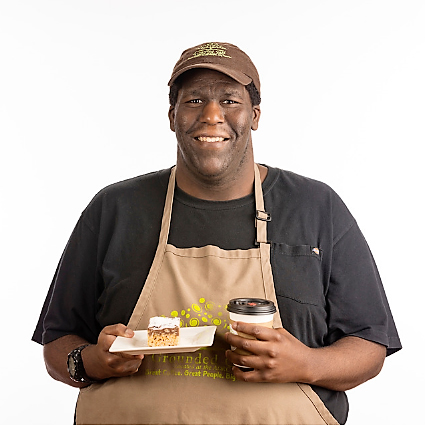 One cup at a time
Grounded Café focuses on abilities through a job skills training program for persons with disabilities. The persons serving you are either older adult mentors or adults with a disability gaining job skills.
Work is a place to belong, socialize, have purpose, and feel valued. At Grounded Café trainees are given the opportunity to work in every part of the café. To learn every task building confidence and discovering their strengths empowering them to experience the pride and dignity of participating in the community. It's been a resounding success more than half of the trainees finding jobs in the community.
Your purchases make this possible
Can one cup of coffee make a difference – You bet!